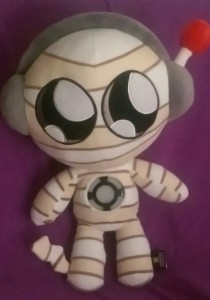 New from Hog Wild, the people who have been selling the ridiculously fun Poppers, comes Brobo. Brobo consist of five characters that serve as friend, flashlight and nightlight for children ages 18 months and over.
I was introduced to Mumu, who, according to his tag, enjoys "Kung Fu, checkers, vacations, music and break dancing". He is a little over 12 inches tall with a super large head and smaller body. Mumu's shape and soft fabric body is perfect for hugging, with the head making the perfect pillow for a quick nap.
The Brobo line is meant to be a nighttime friend for little ones that may be fearful of the dark. In the torso of each Brobo is a LED light that is controlled with a simple swipe of the critters right hand over the light.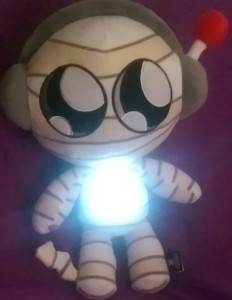 The first swipe produces a bright, flashlight light that can be used to illuminate a small space (like under a scary bed or inside the monster closet), while another swipe of the hand dims the light to make it a perfect nightlight for keeping shadows at bay.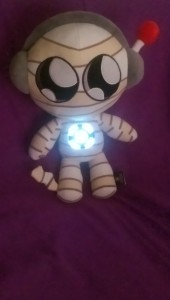 The LED is cool to the touch and there is a five minute auto shut off. The light is powered by 3 AA batteries, with the battery pack secured in the oversized head by a Velcro opening. There is an on/off switch on the battery pack if you decide you want to turn off the light completely.
Brobo is a fun addition to the Hog Wild product line, with an appeal to both children and adults who remember "Glow Worms", but with the added appeal of being super soft and huggable. The only improvement I could see would be to make the night light setting a little less bright, although to a child that feature may be the most appealing. At around $30, Brobo would be an excellent addition to any child's plushy collection.